How much do you know about our American history? However much you know, today's books will likely add to your knowledge. Some of the books are nonfiction, serving up facts with terrific illustrations. Others are historical fiction. Historical fiction tells stories that could be true and use real happenings from history, but the main characters are fictional. Both give us important looks into our past.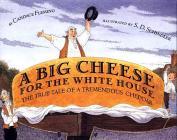 A Big Cheese for the White House: The True Tale of a Tremendous Cheddar by Candace Fleming, illustrated by S.D. Schindler
At the time when Thomas Jefferson was president, the people of Cheshire, Massachusetts wanted Mr. Jefferson to serve their cheese at the White House. They decided to make the biggest cheese ever made and sent it to Washington, DC for the president. It weighed 1,235 pounds!
Say Curtis is a white boy in his teens. He describes meeting Pink Aylee, a black soldier, during the Civil War. They stay with Pink's mother and she cares for their wounds. This book is based on a true story about the author's great-great-grandfather. It is one of Patricia Polacco's finest books.
A barefoot runaway slave is persued by men in heavy boots. As he flees, he is helped by a frog, a mouse a deer and other forest animals, even a swarm of mosquitos. This is a new book for me and I am taken by its beauty and power.
It's 1896 and gold has been discovered in the Yukon. Noah and his father join the travelers hoping to stake a claim. Noah is told to leave his cat behind. However, he smuggles his cat on the boat that is taking them to the Klondike. When he discovers the cat, Noah's father says the cat can stay but she must not be a problem. This proves to be tricky...
Zoe and her family have traveled by covered wagon from Illinois to the Nebraska Territory. Everything is different. Hardly any trees, tall grass everywhere and the closest neighbors are a 3-hour wagon ride away. Zoe, her dad and her sister are happy enough but her mother is very sad and misses her life in Illinois. Zoe hopes the dandelion plant she finds will help her mom feel a little happier. Eve Bunting never disappoints.
In the 1800s, American women had to wear heavy, long, uncomfortable dresses. Amelia Bloomer thought this was just silly. She started a new trend, wearing something called pantaloons, which were a little like pants. It caused all kinds of uproar but many women thought they were an excellent idea.
Dan Yaccarino's great-grandfather traveled to the U.S. from Italy when he was a young man. He brought his dreams and a small shovel. This story follows his life in the US. It goes on to follow the lives of Yaccarino's grandfather, his father and Yaccarino himself. Each man used the small shovel in his work and passed it on to his son.
John is faced with having to move - something he doesn't want to do. His grandfather, a Navajo, tells him about when he once had to leave their home during World War II. His grandfather joined hundreds of other Navajo men to create a secret code based on the Navajo language. This code prevented the Japanese from decoding secret radio messages.
During World War II, Japanese American people were rounded up and sent to internment camps. They lived large groups, behind

barbed wire fences. This story tells about one camp and the baseball field

the inmates built and the games they played. If you like baseball, you'll appreciate the story and the illustrations. Clearly, the uthor and the illustrator are big fans.
In 1938, Orson Wells decided it would be fun to create a radio drama from the H.G. Wells science fiction story, The War of the Worlds. Thing is, the people listening to the radio show didn't realise it was a play. People panicked because they thought Martians had landed and were starting a war. All sorts of chaos happened.
A boy and his father visit the Vietnam Veterans Memorial. This is a wall on which the names of all the people who died in the Vietnam War are listed. As the father searches for his own father's name, the boy observes the other visitors to the wall. This is another fine book by Eve Bunting.
Some great books answer our questions, others cause us to ask questions we'd never thought of. This list of books has some of both. Enjoy.