Today's post is from

Artie Bennett

, author of The Butt Book and Poopendous! two popular books for young readers. Artie tells us about his books and how they have sparked a love of reading in children, including reluctant readers.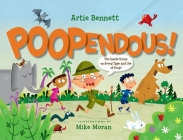 Writing for Reluctant Readers
When Gail asked if I'd like to contribute an essay on literacy—and specifically, the role my books play in promoting it—I jumped at the chance. For after all, without books in our lives, our imaginations would be stunted and our lives infinitely poorer.
It was the poet Emily Dickinson, the belle of Amherst, who wrote: "There is no frigate like a book to take us lands away." How true that is. She herself led a reclusive life, barely venturing outside. But because she read voraciously, she could travel, in her fashion, to the ends of the earth.
I was an eager reader as a boy. I was weaned on Dr. Seuss's books and made my merry way through them all. I can still recall the delicious thrill that On Beyond Zebra! brought, for that's where I wanted to go—to the outer limits of the imagination. And the fact that some reviewers have compared me, favorably, with the maestro himself . . . well, that's as wondrous a tribute as I could ever have hoped for.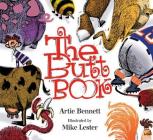 My children's books, The Butt Book and Poopendous! (which is newly out), have immense appeal to children, especially reluctant readers. In fact, reviewers have called The Butt Book a "gateway book," one that shows youngsters how much fun a book can be. It's been said that my books can spark a lifelong love of reading. And accelerate a budding one.
I write in verse, and I love the challenge that this poses. I've played with the patterns and included a "chant" in each of my books. In Poopendous!, we have "Rabbit pellets, raccoon tubes, owl whitewash, and wombat cubes!"
Youngsters are instantly drawn to rhyming books. Nursery rhymes are among the earliest things we learn. They exercise our developing minds and help us acquire language skills. And when parents read rhyming books to their children, the emotional bond deepens. It's not uncommon for youngsters at my readings to recite a verse just after I have, for they can't wait to try it out.
People may ask why I've chosen to write about butts and poop. Did I have some—ahem—posterior motive for doing so? Or perhaps a poopensity for the topic? I'll tell you the truth. Although I'm a grown man who should know better, I still find these things greatly amusing. In fact, if you go to my website,

ArtieBennett.com

, you'll find pages of fascinating butt and poop trivia, synonyms for both, a classic butt joke, and more. These matters are a source of unending delight to youngsters.
At a recent festival, a small boy happened to notice The Butt Book and made a hasty beeline for it. But he pulled up short and looked back at his mom, who said, "It's all right for you to look at The Butt Book." I was absolutely tickled to witness that.
There's also an element of sweetness that underlies my books. Whenever I'm reading The Butt Book and I come to the verse "An eagle's butt soars high above. A teddy bear's is filled with love," it never fails to elicit sighs from the audience. Reviewers have remarked about how charming and adorable the books are, and never gross, vulgar, or offensive.
I've personally witnessed The Butt Book

's

transformative effect. The very first time I read it aloud, a gloomy Gus of a boy, one who
rarely laughed or even smiled, guffawed as he leapt about with each verse. It was an astonishing sight to see. When I finished reading, he instantly cried out, "Again!" So I now recommend a large dose of The Butt Book or Poopendous! therapy for the child in need of a pick-me-up. Doctor's orders. And I've had many parents tell me that their child won't go to sleep without the nightly reading of my book. I apologize for the disruption.
Teachers have responded with enthusiasm to my books. One popular teachers' website, Teach with Picture Books, posted, "I honestly love The Butt Book as a simple read-aloud. It's one of those read-alouds that is its own reward, and it's a book that kids will eagerly read on their own again and again."
Knowing that The Butt Book and Poopendous! are playing their small part in getting youngsters excited about reading fills me with an unquenchable joy. And giving the gift of laughter to children is a satisfaction beyond words, even words like "poopendous!"
Many thanks to Artie for giving us a glimpse into the world of a children's book writer. And here's another good thing – Artie has generously agreed to send a copy of Poopendous! to one lucky person who comments on today's blog. Yay!