The Caldecott Medal was named in honor of nineteenth-century English illustrator Randolph Caldecott. It is awarded every year to the artist of the most distinguished American picture book for children.
This must be a really hard contest to judge. Imagine having to choose one book out of all the picture books published during an entire year! But what fun it would be to be on the panel of judges...
A Ball for Daisy by Chris Raschka


This is a wordless book about a little dog whose most prized possession, a ball, is accidently destroyed. It's a story about loss, recovery and friendship. It's easy to see why this book won the Caldecott Medal.
2012 CALDECOTT HONOR BOOKS
Blackout

by John Rocco


The power goes out and an urban family goes up to the roof of their apartment building to cool off. Then an impromptu block party sprouts on the street and they go down to join the fun. This graphic novel does it all right.
Grandpa Green by Lane Smith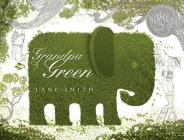 Grandpa Green was a gardener. He created a wonderland of topiary trees (trees trimmed into fancy shapes) that shows his life as a farmboy, soldier, husband, father and grandpa. The last line tells the story, But the important stuff, the garden remembers for him. Lovely.
Me … Jane by Patrick McDonnell


As a child, Jane Goodall watched the birds and squirrels in her yard and discovered the joys and wonders of nature. This led her, as an adult, to living with and writing about chimpanzees in Africa. Jane Goodall has always been one of my heroes and this book is a complete delight.
Have fun checking out these books. They deserve to be honored. Interested in learning more about the Caldecott winner for other years? Click HERE.